A year ago, I had to step away from my CPO duties at Meetup for family reasons. The decision was the right one for my family, but it remains uncertain when I can return to a full-time role. I've been spending my available "work time" time teaching and writing.
A little while back, Product Faculty asked me to design and run a class on product leadership. I thought to myself, "No way can this topic be taught through lectures." So I designed a few realistic scenarios about strategy and people management. Then I asked the Internet for volunteers to help me trial-run the case-based format.
I ran two 15-person cohorts. I was surprised in two ways. First, extremely senior people raised their hand. Second, the dynamic in the cohorts was amazing, even in my rough-around-the-edges, early state. There was great engagement, a sense of community, collective learning, and an enjoyment of flexing decision-making muscles in a private setting.
I was hooked. Yes, case-based learning is something Harvard Business School (and, I guess, Socrates) has known for ages is a great way to learn. But what can I say — better late than never.
So I have decided to do something highly unscalable (but which will work with my constrained schedule): I'm offering a live, case-based learning program for leaders in product. I'm putting the first cohorts together now.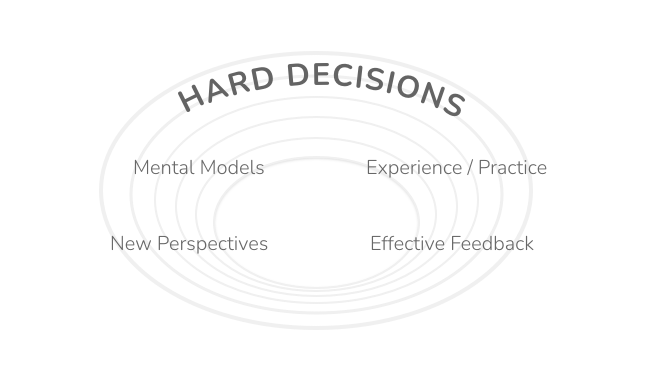 I'm calling it Product Case Camp. We'll meet in small, private groups for an hour each week to run through realistic business scenarios (that I'll design and run) where we have to make difficult decisions based on incomplete information.
I'm looking to create two different groups:
"Executive": experienced executives who want to continue to push their first-principles thinking with their peers
"Director": senior talent seeking to make the transition to the executive suite).
I'm welcoming folks from all aspects of product: PM, design, and engineering. Other backgrounds will be considered on a case-by-case basic.
If you are interested in learning more, check out the landing page I created for Product Case Camp (which has a link to an application form)
As a final aside, I believe that running these cohorts will help both me and the participants with our mental models and first-principles thinking. Which, in a nice form of alignment, should help me make progress on my next PM book, First Principles Product Management. I got pulled away from it for a while, but I'll get there!