In the "personal news to share" category, I've joined a startup. After quite a few years working at scale, and then a "sabbatical" to focus on family needs, it's back to the early stage for me. And yes, I'm loving it.
In April 2020, I stepped away from leading product and engineering at Meetup. The company was just getting spun out of WeWork and my kids were going through difficult times. They needed more time than either my, nor my wife's, high-intensity jobs would support. The choice to focus on family was well worth it and both kids are now doing well. But I admit, I missed being an operator. I did some writing (Becoming Monday), teaching (NYU Stern), and consulting, but it's just not the same as having a team and building a company. However, I didn't think my ongoing family needs would allow me to do that. Growth-stage and startup exec jobs aren't known for supporting "balance".
A few weeks ago, I caught up with an old friend, Andres Glusman, to hear the latest about his startup DoWhatWorks. Andres, Kareem Kouddous and I ran the Lean Startup Meetup in New York for years. We shared a passion for scrappy experimentation and evidence-based thinking. Andres was a longtime exec at Meetup, at various times running growth, product, and strategy. He actually introduced me to the new Meetup CEO as he was leaving, which is why I ended up there in the first place.
Andres updated me on how far DoWhatWorks had come and I was really impressed. They have an amazing initial roster of paying customers, great retention, and a really interesting product — what Dres calls a "conversion rate accelerator".
DoWhatWorks built an engine that scours the Web for growth experiments being run, by which I mean landing pages, pricing pages, incentive programs, sign-up flows, e-commerce purchase moments, product description pages, even search advertising. In other words, all the things we do to get someone to sign up or buy our products. They not only detect experiments, they also spot the winners and losers of those experiments. DoWhatWorks customers subscribe to access those insights.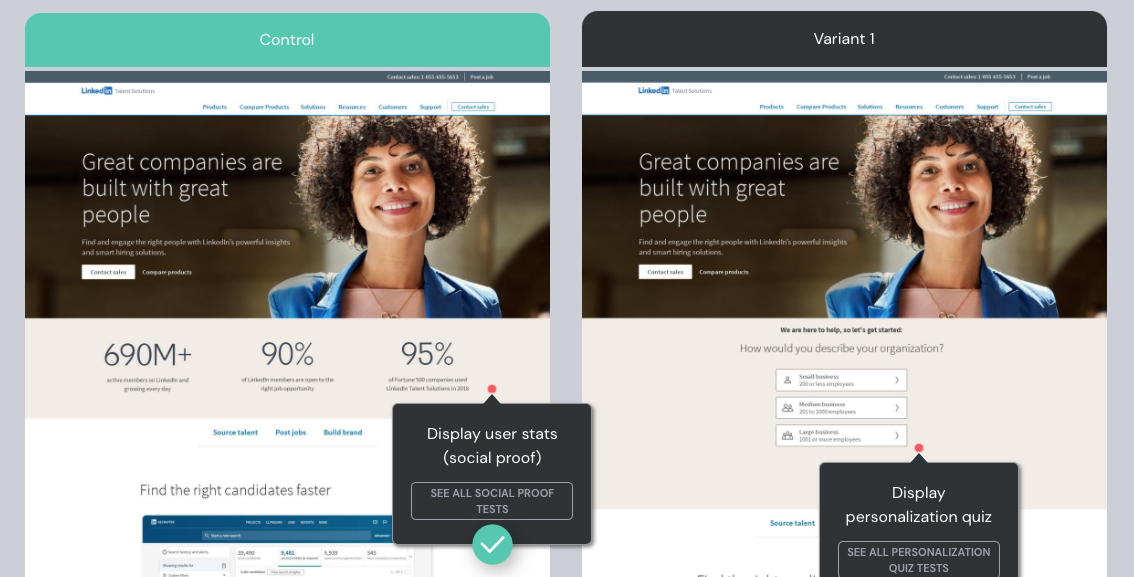 I don't know about you, but I've had to design all of those things, and I've hated the guesswork. These pages and programs are directly connected to revenue, and yet in the past it always felt like we had a hand tied behind our backs. We had the bandwidth to run some experiments optimizing our funnel, but we still had to make a huge number of decisions based purely on anecdotal evidence.
We would say, "We can't A/B test everything, so let's go look at how Airbnb does it. They know what they're doing, right?" But that approach was never good enough. It's just what we had to live with, until now.
DoWhatWorks opens up a whole new body of evidence. To me, it's like being handed a cheat code to race ahead in the game.
I told Dres that I wished the growth and marketing teams at my previous companies had something like his product at their fingertips. Then he changed the topic: "Join us and help build the company," he said. "We can do this in a way that protects your need to give time to family."
I'll be honest — this felt a bit revelatory to me. Here was a startup that wanted me to carve out time for family. Dres said he was going to hold me accountable to making sure I did that. Because, knowing me so well, he knew that I'm a huge part of the problem: I'm obsessive. I get invested in something and then I go all-in. And because of our long relationship, I believed him.
So here I am, building a company and product that I believe in, AND working with a partner who understands that I have to drive my kids to and from school, help them with their homework, make sure that our family is having dinner together. I really hadn't believed that this "AND" was possible until it came from Dres.
I'll also admit that I really love being back at the early stage. I get to wear all the hats again! In the course of a day, I'm doing some sales, some marketing, some product, some customer success, and more. I love flexing all of those muscles. They all intersect and help a young company become more customer-centric and move faster. We've made my title "Partner" because it more accurately reflects that I'm working across the board, not just taking a particular swim lane. That will evolve as we grow the team, but that's how you need to be at the early stage.
Here's another fun part of this job. The prospects and customers I get to talk to each day? They are our people! Product, growth, marketing people who care about evidence and outcomes. Teams who want to be on the cutting edge of product-led growth. Teams that care about building a culture of smart experimentation.
I have the advantage after so many years doing startups of working smarter, rather than harder. Still, I'm having to fight myself to keep balance. To keep that obsessive part of my nature at bay.
So here I am. Back in startupland and loving it. If you're wrestling with the kind of growth and conversion challenges I mentioned above, I'd love to talk. My email is giff@dowhatworks.io.
Top image by Jordan Wozniak on Unsplash